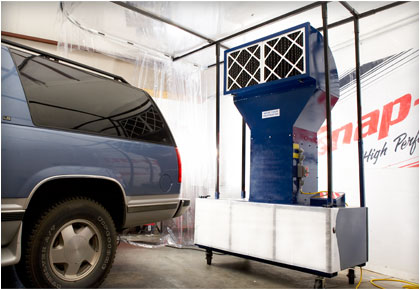 THE MOBILE PREP STATION
ONE SIMPLE PRODUCT. A WHOLE LOT OF PRODUCTIVITY.
The Mobile Prep Station is just that-a portable prep station. Designed for cleaning, sanding, buffing or any preparatory operation, this portable prep station allows you to prepare your vehicles for paint repair in a clean, enclosed area. For over 20 years these unique units have helped shops add capacity, versatility, and productivity to their operations.  The Mobile Prep Station -complete with multi-stage filtration and a patented recirculation design- improves your air quality, giving you a cleaner, healthier work environment, better finishes and a better, more profitable business. The standard filter set removes dust and other airborne particulates, as well as odors and VOC's; and lab tests show it's 99.78% efficient on capturing paint overspray.
All Mobile Prep Station models have adjustable filter racks so the combination of filters can quickly be customized for different types and levels of filtration. In addition to overspray and airborne particulates, we have customers who utilize the unit for collection/filtration of fumes when gluing, gel coating, staining, etc…, customers who use them for dehumidification, and customers who use them for welding fume extraction. The versatility of these units allow for them to be used in many different ways.
Models which include the attached curtain enclosure system have been certified EPA 6H compliant for paint spray application.
Want more information on a Portable Booth?
Learn More about Our Other Equipment