Shop-Pro Equipment.
More Versatile. More Productive.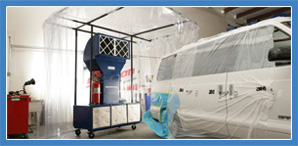 At Shop-Pro Equipment, we understand your need to keep business moving. That's why we manufacture equipment that's designed to increase your productivity. Whether it's in your shop or on-site, our line of portable air filtration equipment and mobile filtration booths gives you the flexibility to work when and where you need it. Our equipments' innovative, compact designs allow you to be more efficient – completing more work in less time.
After all, your business should never be at a stand still. And thanks to Shop-Pro, your profits won't be either.


Check out footage of the NACE EXPO!
The organizers of the NACE Expo requested we provide our portable booths for live painting demonstrations. We feel it's a great opportunity to see the quality and performance of our equipment while watching some of the country's top painters show off their abilities.
Check out videos and more on previous year's NACE EXPO here


National Fire Protection Association