Shop-Pro Equipment.
More Versatile. More Productive.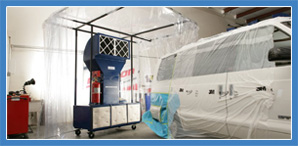 At Shop-Pro Equipment, we understand your need to keep business moving. That's why we manufacture equipment that's designed to increase your productivity. Whether it's in your shop or on-site, our line of portable air filtration equipment and mobile filtration booths gives you the flexibility to work when and where you need it. Our equipments' innovative, compact designs allow you to be more efficient – completing more work in less time.
After all, your business should never be at a stand still. And thanks to Shop-Pro, your profits won't be either.


To our Valued Customers:
We are open for business during this trying and difficult time. We have shipped our equipment to many customers who operate in critical infrastructure sectors, and we will remain available for shipping equipment, replacement parts, and supplies as long as we are permitted by Federal, State, and local authorities.
We count among our customers organizations operating in the communications, critical manufacturing, dam operation, military, defense contracting, emergency services, energy, food & agriculture, government facilities, law enforcement, medical equipment, transportation systems, etc… fields. As such, we feel a unique responsibility to maintain operations as needed. We have transitioned to employees working remotely where available and established CDC recommended safety precaution procedures on-site.
We are also working diligently to uncover ways where our portable air filtration systems may be of assistance in the response to COVID-19 developments.
Thank you for you continued support.

National Fire Protection Association