Shop-Pro Equipment.
More Versatile. More Productive.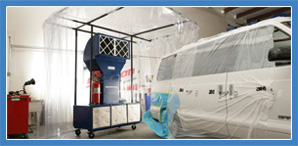 At Shop-Pro Equipment, we understand your need to keep business moving. That's why we manufacture equipment that's designed to increase your productivity. For over 25 years, our Mobile Work Station® has provided increased capacity and flexibility in automotive, aerospace, municipal, and industrial; and everything in between. Whether it's in your shop or on-site, our line of portable air filtration equipment and mobile filtration booths gives you the flexibility to work when and where you need it. Our equipments' innovative, compact designs allow you to be more efficient – completing more work in less time.
After all, your business should never be at a stand still. And thanks to Shop-Pro, your profits won't be either.
The versatility of these units allows them to be used in many different ways to provide a cleaner, safer, and healthier work environment. All of our equipment is manufactured, tested, inspected, crated, and shipped from America's Heartland.


National Fire Protection Association