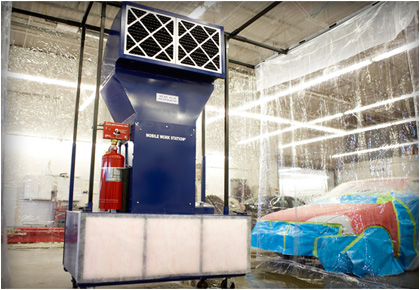 THE MOBILE WORK STATION® Portable Booth
MOVING BUSINESS RIGHT ALONG.
The Mobile Work Station® is a certified EPA 6H compliant portable limited finishing workstation that allows you to prep and paint small repairs without occupying your fixed paint spray booths. For over 25 years this unique mobile paint booth has helped our customers add capacity and productivity to their prep and paint operations. Easy to maneuver, our portable booth / filtration system provides a clean, enclosed atmosphere anywhere it's needed-which means better air quality, better finishes and a better, more profitable business. As seen in Auto Body Repair News, Bodyshop Business and Fender Bender magazine.
Originally designed for the automotive body shop and collision repair industry, the Mobile Work Station® is used by governmental installations and industrial companies in a variety of industries for those situations where a portable paint booth is needed.
It works where you need it.
For more detailed information about this portable equipment check out the Product Info page.
Want more information on a Portable Booth?
Learn More about Our Other Equipment